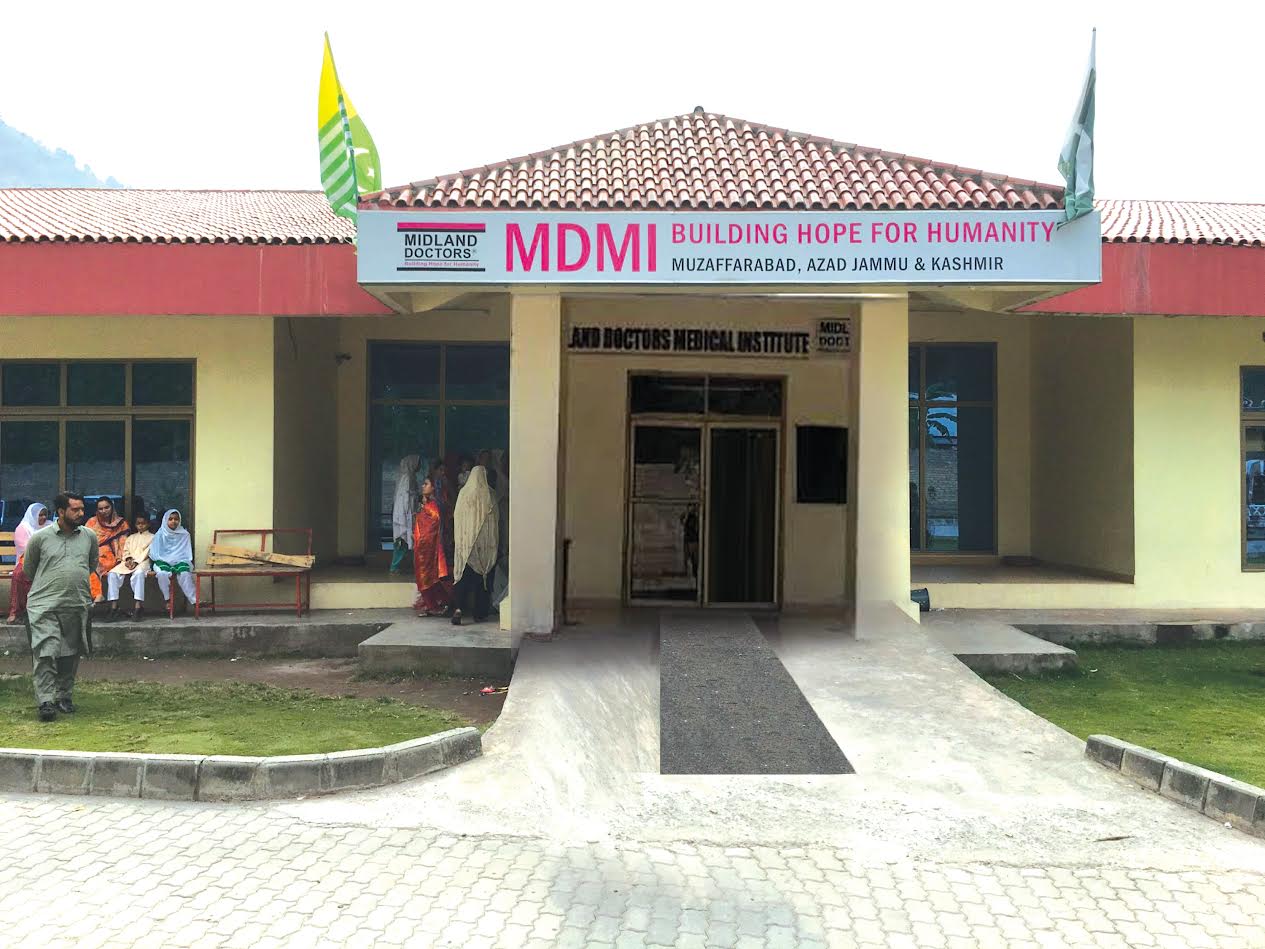 MIDLAND DOCTOR'S MEDICAL INSTITUTE (MDMI)
Midland Doctors Medical Institute (Muzaffarabad, Northern Pakistan) is a state of the Art health care facility built in Northern Pakistan to provide quality health care to vulnerable population in the outskirts of Muzaffarabad. MDMI covers about 70 miles radius of villages. This region was significantly impacted by the earthquake in 2005. The building of the hospital was initially a dream that came true through the dedication of the MDMI team and Canadian Global Care Society. The vision was to provide exceptional healthcare to communities that could not afford standard health care.
Proud of our ongoing support to Midland Doctor's Medical Institute Hospital Muzaffarabad Azad Kashmir

Funds raised across Canada

Edmonton $68,000  (2012)
Toronto $200,000  (2011 & 2014)
Vancouver $50,000  (2012)
Medicine Hat $5,000  (2013)
Calgary $300,000  (2009 to Present)
Donated
$150,000 Hospital Building
$219,893 General Donation for construction of hospital
$200,000 for the Pediatric Department
$56,000 for the Ophthalmology department
$20,000 for the Van which will be used for transporting MDMI Staff
$56,000 as General donation for the hospital
$50,000 in August 2018 for Pediatric department
$200,000 donated in 2020 for installation of Solar Panel on Hospital Roof
50,000 Eye Department
$50,000 Malnutrition program  (includes 25,000 from the Govt grant)
Canadian Global Care under the leadership of Dr. Yasmin Majeed, has supported the hospital at grassroots level. Fundraisers were organized in all major cities of Canada, including Calgary, Toronto, Vancouver and Edmonton to support the building of the hospital. With the support and generosity of our donors the facility was inaugurated in 2013. Over the years CGC has continued its due diligence to monitor the smooth functioning of the hospital. CGC team visits the site regularly, providing teaching sessions to support the physicians and staff on ground. MDMI has a robust outpatient department with excellent laboratory and radiology services. MDMI has a robust outpatient department with excellent laboratory and radiology services.
Malnutrition Program:
Nutrition Program has been developed to screen and treat children for malnutrition, and also create awareness among pregnant and lactating women regarding the importance of proper nutritional habits. The overall objective of the project is to prevent morbidity and mortality resulting from severe moderate and mild malnutrition with children 0 – 10 years of age through the screening, prevention and treatment protocols.
The major aspects of the program are as follows:
    Hospital screening and outpatient treatment
    Screening in the community
    Inpatient treatment of severe malnutrition
    Community engagement and outpatient treatment of moderate malnutrition
Educational Support:
Obstetric Workshop Presented by Dr. Sarah Makhdoom 2016
Pain Management Presented by Dr. Yasmin Majeed
Cardiac Resuscitation Workshop Presented by Dr. Mahjabeen Hussein,
CPR Course to Train the Trainers by Dr. Yasmin Majeed, Dr. Sarah Makhdoom
Solar Panel For MDMI (Generous Donation of Hemani Family)
The purpose of the donation of the solar panel: the acquisition and installation of a 150 KW Solar Hybrid Energy Generating System enabling MDMI to reduce dependence on the unreliable electrical power supply in the region and reduce the use of emergency diesel generators to a more reliable and environmentally friendly, Green Energy Generation System. This will allow MDMI to function more efficiently, without power interruptions and save tens of thousands of dollars a year in operating costs.
Canadian Global Care is proud to support the Solar Panel Installation at Midland Doctors Medical Institute (MDMI). This has been made possible by the generous donation of the HEMANI family. The Solar panel will support the electricity requirements of MDMI for the next 23 years.
Philanthropist Hemani family, of West Vancouver (British Columbia) Canada have agreed to donate Canadian $ 200,000.00 towards the realization of this Project. This will be facilitated through CGC, and a valid Charitable Donation Receipt will be issued to Mr. Hemani upon receipt of funds for the calendar year 2020. The funding will be forwarded to CGC upon execution of this MOU by the Parties and the execution of the Contract between Zeal Engineering Services and Midlands Hospital Services Ltd. dated October 13th, 2020. – See more here
Training & Education of The Staff During Covid – 19 Pandemic
Doctors, nurses and paramedical staff were provided training with emphasis on Donning and Doffing of PPE & Hand hygiene. Mask mandate has been implemented. All these departments are functional at the moment. Nutritional Program has resumed and surgeries are being performed with PCR testing for Covid 19 prior to the surgery. Changes are being adopted in the hospital to ensure the maximum amount of safety. Some projects have being postponed due to Covid 19 but MDMI is trying to minimize delay in treatment using all possible resources. With the generosity of our donors we have been able to raise significant funds to establish the Pediatric, Ophthalmology and Outpatient departments.
Our Journey
We started by supporting the Midland Doctors in their dream of building an earthquake proof hospital.
Our first step in this direction was to organize a fundraiser in Calgary. This led to similar events in Edmonton, Vancouver and Toronto.
We visit the site regularly and carefully scrutinize the project to completion.
How it started
How it's going